In late May, Russian president Vladimir Putin was in China on an official visit, the main result of which was the signing of a thirty-year contract to supply China with natural gas from Russia. Against the backdrop of Russia's increasing isolation, this "Chinese turn" might look like a logical step; however, political analyst Tatyana Stanovaya argues that Moscow's actions reinforce Russia's status as a raw materials appendage and undermine its role in global politics.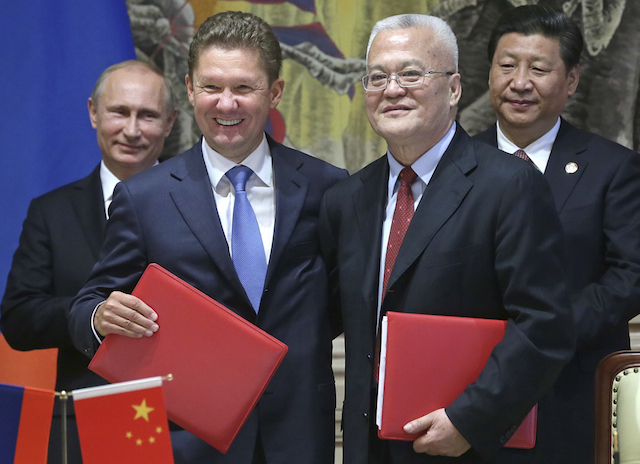 At a CNBC-hosted event on May 23, Russian president Vladimir Putin outlined his plans for closer links with China. There are five key reasons for this rapprochement between the two states.
The first reason: opportunities to implement megaprojects involving large state corporations. Since the beginning of Vladimir Putin's reign, Russia's economy has evolved into a system that could be called a "state oligarchy"—there's no real competition, and the economy is dominated by large state corporations and companies close to Putin. Under Putin's "manual control," structural reforms are impossible, and state megaprojects become a key driving force of economic development. This approach destroys state and economic institutions, which are replaced with simulated structures.
This approach would never be tolerated in the West. Just look at how difficult it is to move ahead with Russian gas projects: in recent years, Brussels has made every effort to liberalize the natural gas market and reduce its dependence on Russia.
Another main engine of the Russian-Chinese friendship is energy, although the share of Russian gas in the Chinese energy mix is only 5 percent (its share in the European market is about 30 percent). In late May, Putin visited China. The most important outcome of that visit was, of course, a gas contract that had been negotiated by the Russian oil company Gazprom over the past ten years. Russia will invest $55 billion and China $22 billion, with China to make a $25 billion advance payment to Gazprom. "The gas sector of Russia and the USSR has not known of such an agreement... Over the next four years it will be the largest construction project, without exaggeration," said Putin.
While the pro-Kremlin media and experts have declared the contract to be a huge success, the Russian liberal public looks at it as another megaproject for the "state oligarchs," i.e., business structures close to Putin, to get access to financial resources. Pointedly, Anton Siluanov, Russia's finance minister, recently stated that the National Welfare Fund (NWF) may be used to co finance Russian-Chinese investment projects. The NWF was once an untouchable fund used to accumulate funds to meet future pension obligations. It lost its "untouchable" status immediately after Putin's return to the presidency in 2012.
The second reason for Russia's current rapprochement with China are the Western economic sanctions imposed on Russia as a consequence of Moscow's policy in Ukraine. Individuals and companies from Putin's inner circle came under attack, but decided to make up for the damages using Chinese projects. The sanctions to some extent forced Russia to soften its position on contract prices for gas.
In other words, the main beneficiaries of closer relations with China, aside from Gazprom, are the businessmen close to Putin who found themselves on the U.S. sanctions list. In addition, the Russian government plans to create favorable conditions for them, in particular by eliminating the mineral extraction tax on gas deposits, which will become a resource base for gas supplies to China. Such a set-up opens up opportunities for Rosneft (its head, Igor Sechin, is on the U.S. sanctions list), a Russian oil company that has actively developed its gas business over the last two years and managed to lobby through the revocation of its monopoly on exporting liquid natural gas (LNG) last year.
The "Chinese turn" actually reinforces Russia's status as a raw materials appendage, but the Russian elite consider this the price to pay for the geopolitical benefits they will enjoy as a result of engagement with China.
The Russian company Yamal LNG could be considered another beneficiary. One of its shareholders is Gennady Timchenko, another individual on the sanctions list. Sixty percent of Yamal LNG stock belongs to NOVATEK, Russia's largest independent gas producer; 20 percent is owned by the French oil and gas company Total S.A. and the China National Petroleum Corporation (CNPC). During Putin's visit to China, NOVATEK signed a contract with CNPC to supply 3 million tons of LNG per year for twenty years under the Yamal LNG project.
In the context of gas pipeline and gas supply infrastructure construction, huge opportunities for appropriation of budgetary funds open up for the construction companies belonging to Russia's Rotenberg brothers, Arkady and Boris (the companies being Stroytransgaz and Stroygazmontazh), and likely also for businessman Yuri Kovalchuk's banking structures.
The third reason for the Russian-Chinese friendship is the high level of comfort inherent in the relationship. In both countries, the statehood is based on a number of principles that diverge from the ideals of Western democracy. In geopolitical terms, the union of Russia and China relies on an alternative value model, one focused on the protection of sovereignty from external attacks. Given the growing gap between Russia and the West, Moscow finds it easier to deal with China, despite some negotiating difficulties, as these difficulties are of a technical nature. Strategically, Russia perceives China as an ideal ally that thinks in similar domestic and geopolitical terms. Like Russia, China is trying to identify its own "area of traditional influence," which is so far purely regional. Like Russia, China creates within itself a powerful system of protection against foreign influence.
The fourth reason is the anti-American rhetoric favored by both governments. A joint statement by Russia and China on their development of a comprehensive strategic partnership asserts that both countries "oppose any attempts and methods of intervention in internal affairs, [and are] committed to strict adherence to the fundamental provisions of international law enshrined in the UN Charter, [and] to unconditional respect for the partner's right to independent choice of [a] development path, [and to] preserve and defend their own cultural, historical, ethical, and moral values."
Russia perceives China as a pole of influence capable of counterbalancing the U.S.'s claims to global leadership. According to the International Monetary Fund, the Chinese economy could become the largest in the world by the end of this year and could thereby contribute to the formation of a new global financial architecture. That's why the Kremlin talks so much about the importance of switching from dollar transactions to using national currencies in trade settlements. In a recent meeting with Vladimir Putin, Andrei Kostin, president of VTB, Russia's largest state bank, said that the bank intends to increase the volume of non-dollar settlement transactions. "First of all, we are talking about the ruble and such currencies as the Chinese yuan. The VTB Group has all the necessary infrastructure," he added. Recently Russian Finance Minister Siluanov said that Russia and China have agreed to establish a joint rating agency.
Russia and China act in concert in the United Nations Security Council as well. Just recently, both countries vetoed a draft UN resolution to submit to the International Criminal Court a dossier that would set in motion an investigation into possible war crimes in Syria. The draft, submitted to the UN Security Council by France, was supported by thirteen countries. This is the fourth time that Russia and China have vetoed draft resolutions calling for action against the Syrian government.
Finally, the fifth reason for the Sino-Russian friendship is perhaps the most important. However difficult negotiations on economic issues might be, at the political level, Moscow and Beijing have reached a higher level of long-term strategic mutual trust than exists in the framework of relations between Russia and the West. The "Chinese turn" actually reinforces Russia's status as a raw materials appendage, but the Russian elite consider this the price to pay for the geopolitical benefits they will enjoy as a result of engagement with China. This is a weak position for Russia, showing that the national elite is unable to pursue a self-sufficient policy or to build a competitive, high-tech economy. Ultimately, this position assigns Russia a deficient role on the world political stage.