In late September, former deputy Kremlin chief-of-staff Vladislav Surkov returned to the Kremlin as an assistant to President Vladimir Putin. Political analyst Tatiana Stanovaya discusses why the Russian leader needed to rehabilitate the former "eminence grise."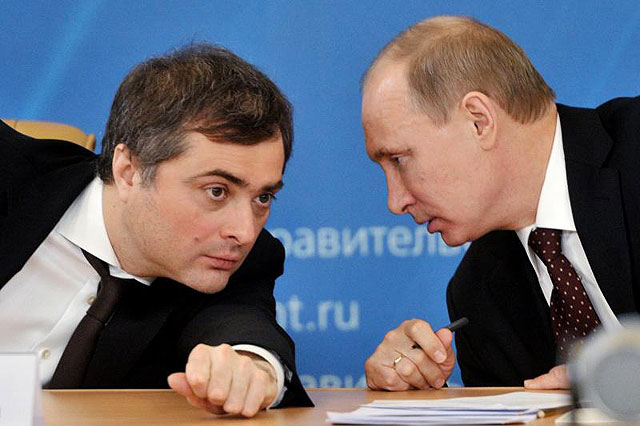 In May 2013, it seemed that Vladislav Surkov's dismissal from the post of deputy Kremlin chief-of-staff had put an end to his government career. There were many reasons that should have prevented Vladislav Surkov from returning to the Kremlin, starting with Vladimir Putin's cool attitude toward him. The current president—who from the very beginning saw Surkov only as a talented manager—always kept his distance from him. Despite his absolute loyalty during Putin's first two terms, "genetically," Surkov came from a business background, was a former employee of Mikhail Khodorkovsky, and became a Kremlin manager in the oligarchic atmosphere of the 1990s. In 2008, when Dmitri Medvedev became the new head of state, Surkov began gravitating toward him. Relations between Medvedev and Surkov were initially cool but later transformed into a partnership. Surkov believed, as did many at the time, that Medvedev would be allowed to run for a second term. But, like many others, he was mistaken.
However, it was not this relationship that was primarily responsible for the tense relations between Surkov and Putin; rather, it was Surkov's doubts about Putin's tactics in 2011 regarding his return to the Kremlin. The deputy Kremlin chief of staff did not like either the All-Russia People's Front or the government's reaction to the December 2011 mass protests. Putin decided that those who had doubts could not go in the same direction that he was headed. Surkov's opinions began increasingly diverging from those of the new "star" of political management, Vyacheslav Volodin. Surkov left the Kremlin for the government, where he was soon afterward joined by Medvedev, and Volodin became the new deputy Kremlin chief of staff. The political system finally broke away from its creator.
Surkov's new post in the government gave him more of a headache than real influence. He could not get along with influential members of the government; had difficult relations with First Deputy Prime Minister Igor Shuvalov; suffered pressure from the military and industrial lobby, which did not like Surkov's attempts at supervising Russia's Global Navigation Satellite System (GLONASS); and risked his position by becoming curator of the Skolkovo project, subject to inspections by law enforcement. In May 2013, it seemed that the ship led by captain Medvedev was going down, and Surkov happened to be in the same boat with him.
According to the president's press secretary Dmitri Peskov, officially, Surkov was fired for poor implementation of presidential decrees. However, few believe that: the same reason was given for dismissing Oleg Govorun from the post of regional development minister. In reality, both Surkov and Govorun gave up their posts on their own initiative and for the same reason: it was difficult to get used to the role of whipping boy after occupying the post of almighty "eminence grise" in the Kremlin. Surkov could not prove himself a capable member of a weak government subject to a constant threat of dismissal. He is not an oppositionist by nature. However, his work in Medvedev's cabinet inevitably made him part of some mechanism opposed to Putin. No matter how hard the prime minister may be trying to prove his solidarity with the Kremlin, the competition between Putin and Medvedev regarding orders connected with the state management decision-making process is obvious. The influence of state corporations, which sneer at Medvedev's officials while solving all their questions directly in concert with the president, is also considerable.
After Surkov's dismissal, the media discussed his possible future occupations: there was a rumor that he might head the Skolkovo project or become involved in business. He obviously did not see himself outside of the government. His July interview with Russkiy Pioner magazine, the full version of which was published on September 23, proves this point. "Any corporation claims that no one inside it acts according to their own wishes, that everything goes according to the will of the corporation. And I'm not really opposed to that. It's as if my personal cause became a public one. Otherwise, how would it look? Yeah, he left, yeah, because he wanted to, whatever. But now, I didn't simply leave, but I left for a reason, in view of big tasks. That is, now it has significance. As a lesson to young people, so to speak," Surkov said in this interview. This is the way of thinking of someone who is used to looking at a situation as a manager and respecting the rules of the "system."
It is also impossible to imagine Surkov as a member of the opposition, though he is not being entirely sincere when he denies such a possibility. The two years that have passed since the beginning of the protests have shown that the opposition has not yet reached the level of influence and power sufficient for Surkov. The most effective tactics in Russian politics involve dancing to the favorite's tune. Under the present circumstances, Putin remains the favorite. He not only returned to the post of the country's leader, but he also managed to crush everything that started to grow during "Medvedev's thaw." The Kremlin is doing everything it can to bury this episode of Russian history in oblivion. Putin is the only authority in political life, the man whom, according to Surkov, "God sent Russia. . . . On the divine scale [of Putin's personality,] my dismissal hasn't changed a thing. . . . Yes, God, yes, called upon him [Putin]. To save Russia from a hostile takeover. A white knight arrived right on time. At the last hour, so to say. And he dismissed me at my own request. Once again, he treated me with respect. I'm grateful." These words in Surkov's interview for Russkiy Pioner were probably crucially important in the decision to bring him back to the Kremlin.
It is safer to keep Surkov "at arm's length" than "at large." The political situation is now stable, and Surkov does not pose any threat to Putin. However, no one can guarantee that in the case of political destabilization, Surkov will not find himself another "white knight."
In September, Izvestia newspaper, known for its closeness to the Kremlin and its negative attitude toward Medvedev's team, wrote that Surkov would soon return to the government. He was considered as a likely candidate for one of four positions. The first one was the post of presidential envoy to the North Caucasus Federal District, then occupied by Alexander Khloponin. Khloponin had been nominated by Medvedev, and, as rumors have it, Putin had been skeptical about the choice but decided to let his successor do as he chose. A source in the Kremlin has claimed that the president was thinking of ending Khloponin's career—a move that would have dealt a serious blow to Medvedev. Surkov, however, allegedly turned down this offer. He also allegedly declined an offer to become minister in charge of Russia's Far East development. The position of Far East Development Minister Viktor Ishayev had been unstable for a long time before he was replaced by Vyacheslav Volodin's protege Alexander Galushka. Surkov's motives are clear: returning to Medvedev's government would mean reliving his previous negative experience. Besides, the job of minister of Far East development is connected with too many risks: it affects too many interests of large state corporations. Surkov also renounced the idea of heading the Skolkovo and Rusnano joint company. The rumor of such a merger was probably an attempt by one of the Kremlin's pressure groups to deal a blow to Rusnano head Anatoly Chubais, against whom the Kremlin had already been plotting for a long time.
Surkov found attractive the fourth offer to become assistant to the president after Tatyana Golikova leaves this post for that of the chairman of the Accounts Chamber. Surkov's motives in accepting this position are much clearer than those of the Russian president in offering it to him. There are three possible perspectives on Surkov's appointment. According to the first, Surkov's return is connected with the "Ukrainian problem": Russia has been trying without success to convince Kiev to join the Customs Union. According to the media, after Golikova's departure, the post of assistant to the president will be reshaped, and the new assistant's supervisory responsibilities will probably include relations with Ukraine and possibly relations with Georgia. It is worth recalling that Golikova used to be responsible for overseeing the social and economic development of Abkhazia and South Ossetia. Surkov has allegedly already begun getting himself up to speed: this past summer, he participated in a meeting between Russian officials and the Ukrainian president's former chief of staff Viktor Medvedchuk, whom the media has nicknamed "Putin's fellow sponsor." Apparently, the Kremlin appreciates Surkov's activity during the Ukrainian "Orange Revolution." At the time, in order to support Viktor Yanukovich and oppose Viktor Yushchenko, a political assault force was sent to Kiev under the supervision of the then–deputy Kremlin chief of staff. Considering that Ukraine's membership in the Customs Union is Moscow's top foreign policy priority, the Kremlin's logic in appointing Surkov to this post can be explained by the hope that his experience might help establish effective ties with the Ukrainian elite. However, according to Dmitri Peskov, Surkov "will deal with exactly the same issues as Golikova did as assistant to the president."
The second perspective on Surkov's appointment suggests that Surkov is being protected by Chechen leader Ramzan Kadyrov. In the past, Kadyrov has spoken rather highly of Surkov, calling him a "true Chechen," his "sworn brother," and "a skilled professional and simply an indispensable person for Russia." Surkov recently attended the birthday celebration of Medni Kadyrova, wife of Ramzan Kadyrov, who is also deputy chairwoman of the Akhmat Kadyrov Foundation and owner of the fashion house Firdaws. However, it is hard to imagine Kadyrov's authority being strong enough to influence executive decisions at this level.
The third perspective on the appointment posits that Volodin's opponents are becoming more active. Proponents of this view see Surkov as a counterbalance to the influence of the first deputy Kremlin chief of staff. A part of Putin's close circle was strongly annoyed by the tactics that Volodin suggested be used during the most recent regional elections. Not many share his belief in the importance of a risky "dialogue" with the nonsystemic opposition.
But after all, no matter whose interests are affected by this appointment, Putin was the one who made the decision to bring Surkov back to the Kremlin. And his motives can only be explained by the idea that it is safer to keep Surkov "at arm's length" than "at large." The political situation is now stable, and Surkov does not pose any threat to Putin. However, no one can guarantee that in the case of political destabilization, Surkov will not find himself another "white knight" and will not use his skills and experience to further this person's interests.