On February 23, Ilya Yashin presented his long-anticipated report entitled "Threat to National Security" exposing the controversial rule of Ramzan Kadyrov. Below are some key facts about the Chechen president.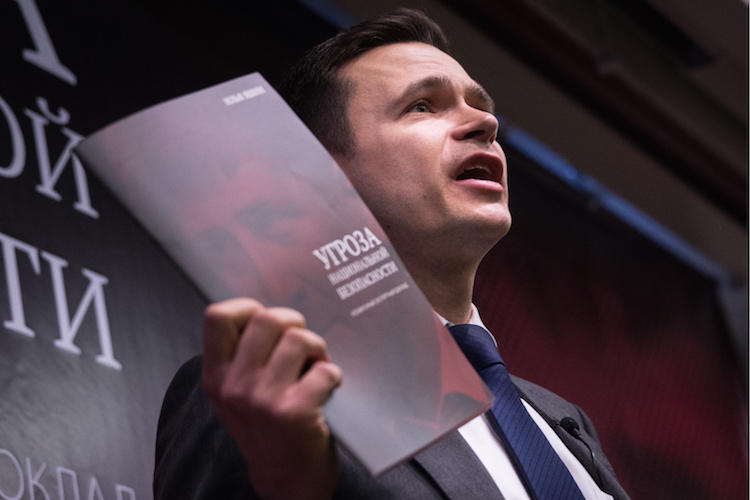 Fact 1. He fought on the side of the Chechen insurgents against the Russian Army
On December 11, 1994, Russian Federation president Boris Yeltsin signed a decree concerning the deployment of military forces in Chechnya for the restoration of constitutional order. In 1995, Akhmat Kadyrov, Ramzan Kadyrov's father, declared "holy war" (jihad) on Russia—in other words, he called on Muslims to kill all nonbelievers. Kadyrov Sr. stated: "There are 1 million Chechens, and 150 million Russians. If each Chechen kills 150 Russians, we will win." Ramzan Kadyrov has confessed: "We do not hide the fact that we fought against Russia. I also fought in the first war, everyone knows that. I first took up an assault rifle when I was not yet 17."
Fact 2. He seized power in Chechnya after the slaying of his father
In August 1999, the Second Chechen War began. Akhmat Kadyrov became the Kremlin's main ally in this confrontation, and Ramzan followed him to the federal side. Formally, Ramzan commanded a platoon of the Patrol and Checkpoint Service of the Ministry of Internal Affairs, but in fact he became the head of his father's security service and oversaw a force of about 1,000 combatants who had previously fought against the Russians but had been amnestied. After the murder of Akhmat Kadyrov on May 9, 2004, at the Dynamo Stadium in Grozny, Ramzan began his struggle for power in Chechnya. The same terrorist incident that killed his father also caused the deaths of other potential claimants to high positions. Kadyrov later declared that those implicated in the crime "had been annihilated," but their names and the evidence of their guilt were never made public. Kadyrov soon entered into a confrontation with the new president of Chechnya, Alu Alkhanov, who had been elected on August 29, 2004. After the automobile of Chechnyan Prime Minister Sergey Abramov was rammed by a Kamaz truck on November 18, 2005, Kadyrov took over his position and continued to persecute the security, defense, and law enforcement officials who were loyal to Alkhanov. In February 2007, Putin accepted Alkhanov's resignation, and on March 2, 2007, Kadyrov officially took the helm of Chechnya.
Fact 3. Kadryov's enemies have consistently been killed
Kadyrov has made short shrift of those have who betrayed his trust. Former separatist Umar Israilov publicly described the crimes of his former boss, including kidnappings and tortures committed in 2003–2005. In the escapee's words, sometimes after lunch Kadyrov came to the secret prison where those suspected of belonging to the armed underground were kept, and "'for dessert' personally tortured the prisoners." In 2009 Ismailov was shot to death in Vienna near a grocery store. Movladi Baisarov, a former bodyguard of Akhmat Kadyrov and commander of the Gorets (Highlander) detachment, accused Ramzan of usurpation of power, telling Moscow News in October 2006, "Kadyrov wants everyone to be subordinate to and subservient to him. He is a prince, the top dog. Ramzan has sort of Asiatic ways." Subsequently, by order of Kadyrov, the Highlander detachment was dissolved and required to disarm. On November 18, 2006, Baisarov was shot dead in Moscow by forces of the Chechen Ministry of Internal Affairs subject to Kadyrov's control.
"You have come between Chechens. You are an enemy. You are worse than [Shamil] Basaev" Kadyrov told Novaya Gazeta journalist Anna Politkovskaya in June 2004. Politkovskaya had written, and continued to write, about detachments of armed Kadyrovites that were involved in kidnappings, murders, and tortures and "in their cruelty long ago merited comparison with death squads." On October 7, 2006, Politkovskaya was killed in the entryway of her home in Moscow. Two days before her death, on Kadyrov's thirtieth birthday, she spoke on Radio Svoboda and called Kadyrov a "coward, armed to the teeth, who sits surrounded by bodyguards." The journalist emphasized that her goal was to spark a criminal case against Kadyrov and his arrest. Officially, the search for the person who ordered Politkovskaya's killing continues to this day. To date, Kadyrov has not been questioned in the matter.
In 2009, Natalia Estemirova, an employee of Memorial, was kidnapped in Grozny. Her body was later found with bullet wounds in the head and chest. Oleg Orlov, the head of Memorial, stated: "I know who is guilty of Estemirova's slaying. We all know this man. His name is Ramzan Kadyrov. He threatened Natalia, insulted her, and considered her his personal enemy."
Opposition leader Boris Nemtsov systematically criticized Kadyrov's actions and the inaction of law enforcement with respect to him. Kadyrov reacted angrily to such criticism of both himself and President Putin, telling Newsweek magazine, "All those who criticize Putin are subhumans, and are my personal enemies. As long as Putin supports me, I can do anything, Allah akbar!"
Nemtsov was killed on February 27, 2015, in the center of Moscow, near the Kremlin. The killer caught up with him on the Big Moskvoretsky Bridge and shot him from behind six times. Five bullets hit their target. Nemtsov died on the spot.
Fact 4. He has established a regime of personal power in Chechnya
Kadyrov's power in the republic is unlimited. "We do not have an opposition: such a system was invented to undermine authority. I do not let anyone play with the people," declared Kadyrov. No political party other than his own Edinaya Rossiya (United Russia) is active anywhere in the republic. No oversight of elections is possible because of independent observers' fears for their personal safety. The only critics of the Kadyrov regime in Chechnya are human rights activists, who are constantly threatened with violence and subjected to attacks. On December 13, 2014, the Grozny office of the Committee Against Torture was burned. On June 3, 2015, the Committee's new office, an apartment inhabited by the human rights activists employed there, and their service vehicle were vandalized by people wearing masks and armed with sledgehammers. The group had come from a meeting in the center of Grozny organized by Kadyrov. The Committee Against Torture subsequently announced the closure of its office in Grozny due to fear for its employees' safety.
Fact 5. He considers the laws of sharia higher than Russian law
In 2010, Kadyrov publicly declared that "sharia is higher than Russian law" and that the "enemies of Islam must be destroyed." In 2009, he opened a Center of Islamic Medicine in Grozny, which specializes in the exorcism of "djinns" from people. In the spring of 2015, he personally gave Nazhud Guchigov, the 47-year-old head of the Nozhay-Yurt Department of Internal Affairs, permission to marry 17-year-old Luiza Goilabiyeva. According to journalist Elena Milashina, the underage girl was forced to marry Guchigov. In a conversation with Milashina, Guchigov confirmed that he was already married, and thus that his new marriage was illegal under the laws of the Russian Federation.
The unsettled life of the mass of young Chechens in the context of the ongoing Islamization of the republic has created ideal conditions for their recruitment by radical Muslim organizations.
Fact 6. Kadyrov is one of the most highly decorated politicians in Russia
At age 39, Kadyrov has amassed an entire collection of decorations and regalia. Such awards as the Hero of Russia star, the Order of Courage, and the Order for Service to the Homeland gleam on the former rebel's chest. The total number of state decorations awarded to the head of Chechnya exceeds sixty.
Fact 7. He leads a luxurious life at the taxpayers' expense
In 2001–2014, 464 million rubles were allocated from the budget of the Russian Federation to Chechnya as subsidies, subventions, and grants. The money Chechnya receives from Moscow has not been used economically: Anton Siluanov, the Russian Federation's Minister of Finance, termed Chechnya the champion in extravagance. He noted that the size of the Chechen officials' car fleet is about half that of the car fleet of the officials in the entire Northern Caucasus, and that the expenditure on officials in Chechnya is twice as great as the average figure in Russia. However, Kadyrov has complained that the money allocated to the republic is not enough. "We do have complaints. We are in debt, we have taken out loans, whatever was possible," Kadyrov claimed in an interview with the Russian News Service. In addition to the money allocated by the Russian budget, significant financial resources have been collected by the Akhmat Kadyrov Foundation, which is formally headed by Ramzan Kadyrov's mother. The main feature of this foundation is its lack of transparency. The latest publicly available data on its finances refer to 2013: back then, there were 1.45 million rubles in the foundation's accounts. Information concerning the foundation's revenues is unavailable in public sources.
According to its charter, the Kadyrov Foundation's purpose is to carry out social projects and to aid persons who are facing hard times. Here are some of the organization's known expenditures:
A 100,000 euro watch given by Kadyrov to the stylist Sergey Zverev
A Porsche Cayenne car worth 250,000 euros given by Kadyrov to the TV host Yana Rudkovskaya
A fee of 1 million euros to Diego Maradona for his participation in a soccer match with Kadyrov
A fee of 2 million euros to Mike Tyson, who flew to Chechnya for a friendly sparring match with Kadyrov
A fee of 1 million euros to the actress Hilary Swank, who flew to Grozny to wish Kadyrov a happy birthday
Fact 8. Kadyrov's private army numbers 30,000 men
The overall number of armed "Kadyrovites," in the opinion of experts, is close to 30,000 men. A significant part of this number are formally personnel of the Ministry of Internal Affairs of the Russian Federation or serve in the internal troops of Russia. In fact, the armed forces that are active within Chechnya are not subordinate to federal bodies and are loyal only to the president of Chechnya himself. The Russian regions too are home to criminal gangs consisting of Chechen bandits. Some of these crime bosses benefit from Kadyrov's direct support and public patronage.
Fact 9. He is grooming young Kadyrovites 
Kadyrov devotes considerable attention to the grooming of new forces for his army, including recruiting new fighters in Chechnya beginning at a very young age. The republic's Young Fortress program exists to prepare young insurgents. Adolescents from disadvantaged families live in the barracks and undergo training in how to fight and kill. In 2009, Grozny television broadcast a documentary film about the training camp that showed 12-year-olds praying together, chanting "Allah Akbar," marching on the training ground, and firing military weapons as Kadyrov looked on.
Fact 10. He has given important government positions to his relatives and close circle
Ramzan's nephew Islam Kadyrov heads the Executive Office of the Head of Chechnya, and his cousin Abubakar Edelgeriev heads the government of Chechnya. Kadyrov's sisters run the republic's social programs: Zulay Kadyrova holds the position of deputy head of the Administration of the President of the Republic, and Zargan Kadyrova oversees preschool education. Ramzan's right hand is his cousin Adam Delimkhanov, a current deputy of the Russian Federation Duma from the United Russia Party. Kadyrov says that Delimkhanov is his "closest friend, more than a brother," and has called him his potential successor. During the First Chechen War, Delimkhanov fought on the side of the separatists and was the personal driver of the terrorist Salman Raduev. Another figure who is close to Kadyrov is Magomed Daudov, nicknamed "Lord." He is believed to have killed the organizer of the terrorist act of May 9, 2004, in which Akhmat Kadyrov died. Daudov has been honored as a hero of Russia.
Fact 11. He has powerful patrons in Moscow
One of Kadyrov's most influential friends in Moscow is General Viktor Zolotov, who is highly trusted by Vladimir Putin. Among Kadyrov's patrons, Vladislav Surkov, who managed domestic politics in the presidential administration from 1999 to 2011, stands out. From the time Kadyrov assumed power in Chechnya, Surkov advised and helped him manage his political regime.
Fact 12. He is not subordinate to anyone
"Chechnya has become an almost independent state with one exception: the money is Russian. Kadyrov has managed to take responsibility for all issues, but in return, he has demanded and received enormous authority. As a result, the federal authorities now depend on Kadyrov," explains political scientist Dmitry Oreshkin. "This is an 'inside-out empire,' one in which it is not the center that dictates its own interests, but one in which the colony has a stranglehold on the center and extracts from it as much money as it needs."
In April 2015, Kadyrov ordered the Chechen security forces, "If anyone appears on your territory without your knowledge, be it a Muscovite or someone from Stavropol, shoot to kill." In reality, Kadyrov has the license to ignore Russian law, posing the threat of an outbreak of a new war in the Caucasus if his appetites and demands are not satisfied. Today, the head of Chechnya publicly acknowledges the authority of only one person—Vladimir Putin. But in practice, not even the president of the Russian Federation is able to force his Chechen appointee to submit to the "power vertical."
Fact 13. Chechens are fleeing from Kadyrov to the Islamic State
As a rule, Kadyrov justifies his illegal actions as necessary measures to combat terrorists. However, terrorists have managed to create a fully functional channel for sending Islamists recruited in Chechnya to areas controlled by the Islamic State in the Middle East. In 2013, it became known that Asu Dudurkaeva, the daughter of the head of the Chechen Department of the Federal Migration Service, had joined the ranks of the Islamist insurgents in Syria. One of the key reasons that young Chechens are inclined to support the Middle Eastern terrorists is Kadyrov's political regime, including its policy of Islamization of the republic, although this practice contradicts the norms of the Muslim faith. "Chechens often go to live in the Islamic State, and not only to fight," claims Novaya Gazeta journalist Elena Milashina. "It's Kadyrov they are fleeing from. Such people are shut out of Europe, and thus they are forced to seek refuge in Syria."
This article originally appeared in Russian at openrussia.org.