Last week, Russian Prime Minister Dmitry Medvedev spoke at a televised interview to five Russian TV channels, during which he announced that his cabinet will step up efforts to lessen the government's grip on the country's economic policy. According to political analyst Tatiana Stanovaya, despite these early signs of liberalization, the weakening role of Russia's Prime Minister may threaten Putin's regime, as the Russian ruble continues its free fall.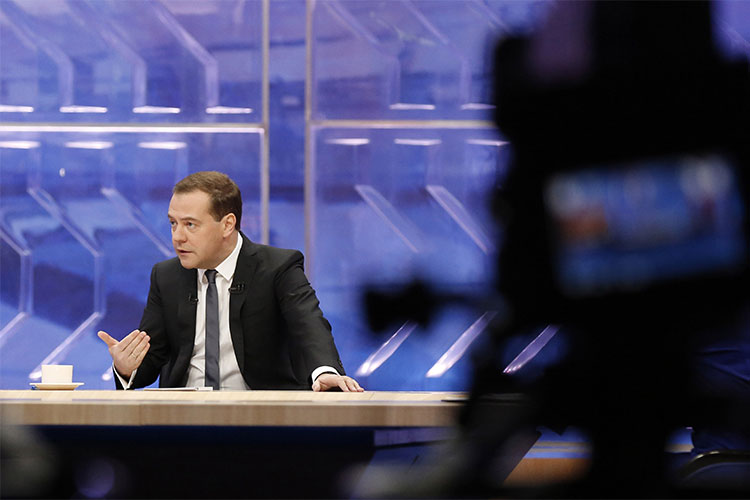 This year, Dmitry Medvedev's traditional interview to the Russian media and journalists was met with tepid interest. Over the past few years, his influence and authority had suffered a significant decline, while the weight and worth of his statements had markedly withered. However, a number of Russian experts maintain that Medved still has great political power.
During his tenure as Russia's President — in spite of his limited political role as Putin's successor — Medvedev was impressive in showing some independence from Putin's influence. For nearly three years, he was perceived as a full-fledged member of Russia's political tandem and not merely as an office sentinel. Medvedev would occasionally disagree with Putin and openly criticize him or make decisions that would often frustrate his predecessor or appoint people whom Putin did not trust. Medvedev also showed his skills as a leader in foreign policy, having signed the Strategic Arms Reduction Treaty (START II) and having declined to veto the UN Security Council resolution on Libya (against Putin's will).
It remains a mystery as to why Putin allowed Medvedev to have his own, distinctly independent, although limited, political agenda. Perhaps the answer can be found in the unique aspects of Putin's psychological profile. He was the one to establish the rules of engagement that provided little room for some independent decision-making for his successor. This enabled Putin to kill two birds with one stone. First, he got an opportunity to test his protégé who happened to be not the most ambitious or remarkable one among his peers. Second, it allowed him to see how effective his own succession plan was in a long run. Third, Putin was able to identify and analyze the mistakes of his successor in order to make sure his strategy was correct. In the end, Putin drew a number of very specific conclusions out of this experiment. Namely, he realized that he could trust no one, not even his own dependable "friend" who had inevitably started to push his own plans once vested with power. Putin also understood that he had to keep an eye out for Russia's political elite, as Medvedev's somewhat "softer policy" clearly exposed those inside his inner circle who were capable of plotting against the president.
Today, there is very little left to remind us of Medvedev's time as President of Russia. Almost all the decisions he put forth once as a leader of the country had eventually been revised. One of the latest examples was the ruling of the Constitutional Court of Russia, which found unconstitutional the article in the Russian Criminal Code that enforced criminal liability for economic crimes. Initially signed by former President Medvedev, the provisions of the law that stipulated mitigating factors in criminal offences perpetrated by business people, have been recently reviewed and made harsher under Putin. Once an important political figure, Medvedev is now operating on thin ice. An easy magnet for criticism, he has become Prime Minister in name only with little or no influence on decision-making.
Regardless, Medvedev has been comfortably presiding over Russia's government in the past two and a half years, and Putin has not made a move to force him to resign. Why? It is unlikely Putin will ever renege on his own word and "sack one of his own people." What is likely is that he is afraid to alienate Medvedev, knowing well that the latter represents a latent and potentially serious rival.
Medvedev himself has been quite consistent with following the rules of the current political game. This does not guarantee that he will keep his seat, though, and given the recent ruble slide, the talks of an imminent cabinet change have all but intensified. It is quite possible that Putin will find his successor another position, less threatening, alongside him; while the economic issues will be handed to another prime minister in name only who will have a higher authority rating.
While the current economy requires quick and decisive measures and unpopular decisions, it will be very challenging to achieve any success, especially with the current prime minister in power. This means that Medvedev might become a source of risk within the system.
Undoubtedly, Medvedev sees the potential for such a development while continuing to act his role of a prime minister answerable to the media and tackling some unpleasant issues, which no one dares to address to President Putin. In this regard, Medvedev's latest interview to the Russian TV channels appears to be more in tune with reality than Putin's state of the nation address in which he showed himself incapable of giving adequate assessments of the current economic situation in Russia.
During the televised event, the Russian Prime Minister addressed difficult questions not because he has a better grip on reality than Putin. It seems as if Putin could gain more political capital if Prime Minister Medvedev carried the brunt of all the problems, which many Russians had already begun to experience. Putin is certain that by distancing himself form the current government, he will be able to minimize the negative impact of the developing crises on his electorate, since Medvedev will be the patsy to take on all the responsibility.
In the meantime, Medvedev seems to have accepted his fate with remarkable ease. He already stoically reported on the fall of the Russian ruble, the rise in food prices, and national budget risks. Admittedly, he did not say anything new worth highlighting, as his answers were predictable and repetitive. The key message of his interview was designed to let the Russian people know that everything in the country is under control and that they should remember the triumph of the Sochi Olympic Games and that of the return of Crimea. Prime Minister also pointed out that he is "in the same boat" with the Russian people who watched their savings and income depreciate in a painfully quick manner. The second key message recently belabored by many Russian officials underscored Russia's need to get away from its addiction on oil exports, having blamed the Soviet Union for the current disaster with plunging oil prices. It appears that having someone or something to blame for Russia's woes but themselves is a trademark tactic favored by the current government and president.
Despite all these seemingly routine answers given by Prime Minister Medvedev during his last interview, there were a few moments, which shed some light on existing ideological differences between him and President Putin. "No one has ever concluded that sanctions gave some impetus to greater development," said Medvedev. A comment that raised an eyebrow, especially in view of Putin's assurance that Western sanctions create more favorable conditions for Russia's development of its agriculture, oil production technologies, and import substitution policies. According to Putin, these sanctions provide opportunities rather than presenting a threat, whereas Medvedev sees them as "detrimental to the country's economy." However, he later corrected himself to reiterate Putin's stance on the positive impact of Western sanctions.
Given the recently announced "liberal turnaround" in the Russian economic policy, Medvedev began positioning himself as perhaps an ultimate liberal amongst the top government elite. "The absolute majority of proposals formulated by the Government are liberal from the economic point of view. The economic ideas included in the Presidential Address are liberal and are aimed at strengthening free enterprise and private ownership," the Russian Prime Minister said in the interview. Interestingly, back in April 2012 when Medvedev had to return the office of Russia's President to newly elected Vladimir Putin, he admitted to never being a liberal and rather considering himself to be a conservative. Medvedev's public embrace of "liberal values" could be interpreted as the Kremlin's effort to convince the Russian people that the government suspends its support for conservative policies.
In 2012, President Putin appointed Medvedev to lead the Russian government in the midst of enjoying some semblance of stability. He was also successful in overcoming opposition rallies and criticism. The conservative trend allowed the Russian "hawks" and "office guardians" to maintain leading positions in the government, having ousted the liberal opposition from political decision-making. The Prime Minister became the target of jokes, while Putin publicly castigated the cabinet, driving his own approval ratings toward record highs.
It remains to be seen whether this tactic is applicable, as the collapse of the Russian currency and Western sanctions give rise to new social and economic challenges. It is difficult to say if Putin will be able to channel the buzzing social disapproval towards Medvedev's cabinet whose activity had remained lackluster in the past two and a half years. Most likely, the answers to these questions will be negative. While the current economy requires quick and decisive measures and unpopular decisions, it will be very challenging to achieve any success, especially with the current prime minister in power. This means that Medvedev might become a source of risk within the system, while his flagging reputation threatens to weaken Putin's hold.