On October 20, Christophe de Margerie, CEO of French energy giant Total, was killed in a plane crash at Vnukovo Airport in Moscow. According to political analyst Tatiana Stanovaya, Russia lost not only a business partner and a supporter in the international arena in this tragic accident, but also a successful example of a business model unfettered by politics.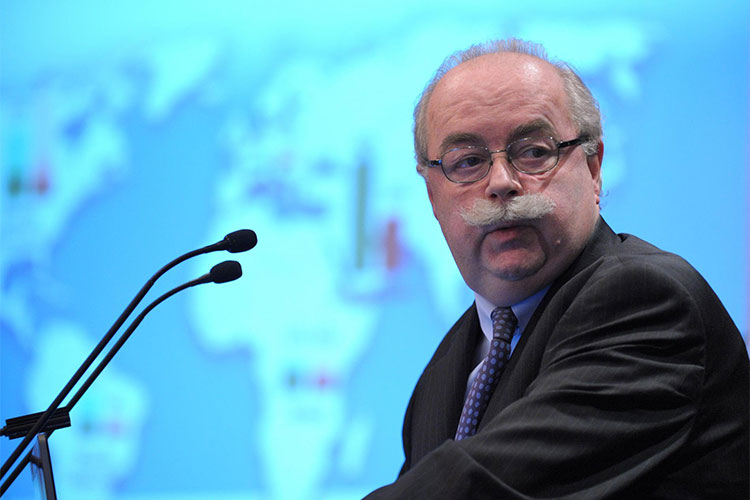 The tragic death of Christophe de Margerie, CEO of the French oil and gas giant Total, shocked France and Russia alike. De Margerie helped catapult the partnership between his company and Russia's fuel and energy industry to a completely new level. He was well known among Russian leaders, as well as respected and loved by the Russian public. Most recently, de Margerie was recognized for his outspoken criticism of Western sanctions against Russia—a point belabored by the Russian mainstream media in its coverage of his death. Yet the irony is that while eulogizing de Margerie as "a true friend of Russia," the Russian leadership is doing its best to prevent similar businesspeople from emerging in Russia.
Admittedly, no foreign company has managed to achieve such resounding success in Russia as that enjoyed by Total. The company, though, had it tough in the beginning. Starting in 2005, Gazprom began to absorb one independent gas company after another, while Novatek, the largest independent natural gas producer in Russia, adopted a strategy of not competing with monopoly companies in order to maintain business relations with them. Having relinquished an earlier plan to buy 25 percent of Novatek's shares, Total had to take a step back in order to avoid any conflicts and wait for an opportune moment. That moment arose when entrepreneur Gennady Timchenko, who was close to Putin, secured a business partnership with the French company.
The new partnership offered Total more business opportunities and allowed it to launch a number of ambitious joint projects with Russian companies in the area of liquefied natural gas production. Even the all-powerful Rosneft president Igor Sechin initially was not successful in establishing a joint venture with BP, although he later accomplished the feat of purchasing oil producer TNK-BP from the AAR consortium. Despite the important role played by BP CEO Robert Dudley in shaping the Russian oil and gas industry, his significance pales in comparison to that of de Margerie, who greatly influenced the development of Russian-French relations and helped to improve the Russian investment climate and the attitude of the world business community toward Russia.
In the aftermath of the fatal crash, Russian president Vladimir Putin praised de Margerie, saying, "He stood at the origins of many joint projects that laid the foundations for a long-term fruitful cooperation between Russia and France in the energy sector." According to Kremlin spokesman Dmitry Peskov, Putin had known de Margerie for many years and used to work with him quite closely. "Mr. Christophe de Margerie was a friend and a partner of our country who had always openly stated his position on the most important issues. He will be missed," said Russian prime minister Dmitry Medvedev in the wake of the accident.
After taking a closer look, it becomes clear that the Russian leadership is willing to bestow such praises only on foreign investors, and not on Russian businesspeople. There are a number of reasons for this reluctance.
De Margerie openly lambasted his own government, and still all French TV channels hailed the Total CEO as a true patriot of France. In Russia, however, any businessperson who criticizes Putin cannot be called a "patriot."
First, de Margerie headed one of the largest national energy companies in the world without a majority stakeholder. Total's institutional stakeholders own 87 percent of the company, with the largest share of 4 percent controlled by Belgian billionaire Alfred Frère. 3.6 percent of the company's shares belong to its employees. By no means would such an arrangement be possible in Russia. The majority of large businesses in Russia are totally controlled by shareholders and have an extremely weak upper management; as a result, ownership and management are closely tied together. Moreover, the Russian authorities view foreign investors as a potential threat to national security, which is why there is not a single foreign investor who owns more than 50 percent of a company deemed strategic in Russia (a category that includes the energy sector). Even Total, which has consistently been on good terms with the Russian leadership, holds only 18 percent of Novatek, with the possibility of increasing that stake to 19 percent by 2015.
Second, de Margerie openly criticized his own government's foreign policy. In an August interview with Les Echos last year, he lambasted the French leadership for its efforts to resurrect the seventeenth-century doctrine of Colbertism and its failure to bring changes to France. "Do you see anything changing? I do not," he said, pointing out that the French government has long worked against globalization, narrowing its support to only those uncompetitive sectors of the French economy. In Russia, however, such criticism can only come from the political opposition—and only with the Kremlin's approval. Antigovernment rhetoric from the nonsystemic opposition is barely covered by the mainstream media. Additionally, representatives of large business in Russia do not express any criticism of the government at all. Since the 2003 Yukos scandal, Russian business has operated on the unspoken rule that the government will extend a safety net only in exchange for unequivocal political loyalty.
Political loyalty, however, was euphemistically replaced by the term "public responsibility" after the Yukos case. At that time, the country's leadership demanded that the oligarchs not only pay taxes but also support the Kremlin's political initiatives and invest in those projects suggested by the government. Over the past several years, the government has added one other requirement to this list for businesses: that they display "patriotism." Such conditions would have been unacceptable for de Margerie. After his tragic death, all French TV channels hailed the Total CEO as a true patriot of France who shared his country's values. In Russia, however, any businessperson who criticizes Putin cannot be called a "patriot." For one reason or another, he or she is deemed a "foreign agent" and a traitor. All big business in Russia is in fact under the Kremlin's full control.
Third, although he openly lambasted his own government, de Margerie showed no fear of repercussions against his business. Considering the Western sanctions against Russia a blunder, he also stated that Europe has a habit of taking the business community hostage to its foreign policies. During his last appearance in Moscow on October 20, he expressed his beliefs that "political issues require political solutions" and that "when sanctions are used as a last resort, it is an equivalent of a diplomatic fiasco."
He was not afraid to express his opinions to politicians and diplomats. Nor was he apprehensive about Total being subject to multiple audits and inquiries from regulatory and supervisory agencies.
Let us ask ourselves the following question: What would a large Russian industrial company face if its president were to criticize Russia's policy in Ukraine, its sanctions against Ukrainian products, or its limited gas supply? Undoubtedly, such a company's stock would instantly tumble and its risks drastically rise, because it would be facing unpredictable but inevitable political consequences.
Large businesses in Russia are coerced into operating within the strict boundaries of the political establishment. Russian entrepreneurs are aware of the fact that their property rights are not guaranteed by law, while their vulnerability is quite high. In such a hostile environment, Russian businesses are unable to produce talented managers such as de Margerie and successful ventures such as Total. The death of de Margerie is a double loss for Russia, since it meant that Russia lost not only a supporter but also a fine blueprint for business development in a civilized and business-friendly country.