In mid-October, after the murder of 25-year-old Yegor Shcherbakov in Moscow's Biryulyovo district, allegedly by a man from the Caucasus region, local residents supported by nationalist organizations stormed a wholesale vegetable market mainly employing migrant workers. Such ethnic violence is becoming increasingly frequent in Russia. According to political analyst Tatiana Stanovaya, racial tension is a time bomb that may have dire consequences for the country.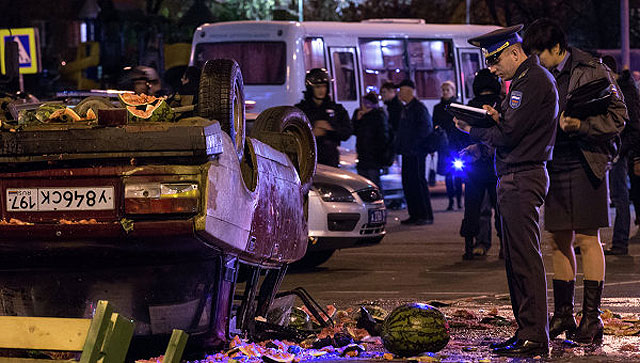 The question of how to solve the "ethnic issue" has become one of the most discussed topics in Russia today. Opposition member Alexei Navalny has suggested the introduction of a visa agreement with the countries of Central Asia and the South Caucasus. Signatures are already being collected on the Russian Public Initiative website in support of such a project. A project that collects 100,000 signatures has a chance of becoming a legislative initiative. The government, however, still has instruments to dismiss "people's initiatives." Nationalists offer much more drastic suggestions, including the forced deportation from Russia of all migrants. A part of the liberal community has demanded the detachment of the North Caucasus republics from the Russian Federation; residents of these regions often cause the same resentment among the population of Central Russia as do foreigners.
The federal government, however, is not in any hurry to take effective measures, since it prefers to control critical situations manually. Suffice to mention the recent ethnically motivated attacks in the town of Pugachev, where local residents demanded punishment for those guilty of killing Ruslan Marzhanov. An ethnic Chechen was then the main suspect in the investigation, and local authorities quickly moved the Chechen community out of town to ensure its safety. Protesters were threatened with criminal charges of extremism. Nowadays, many analysts, journalists, and politicians call on authorities to omit any mention of suspects' nationality when covering such incidents. However, the fact remains that ethnic tensions in Russia are rising, and this is only the beginning.
These growing tensions are based on the Russian government's consistent incompetence, of which the murder of Yegor Shcherbakov is a clear proof. The person suspected of murdering the young man is Azerbaijani citizen Orkhan Zeinalov, who has been illegally living in Russia for ten years. In 2011, he was convicted of causing a traffic accident that had severe consequences. After serving his term, Zeinalov began working in the Pokrovskaya wholesale vegetable market in Moscow's Western Biryulyovo district.
Ethnic tensions in Russia are rising, and this is only the beginning.
This chain of events raises unpleasant questions for Russian authorities. First of all, how could an illegal migrant live in Russia for ten years? Zeinalov's evasion of the authorities cannot be explained by pure luck, since the Moscow police are extremely particular with regard to "non-Russian" people and regularly check their papers. The Russian media is full of reports of policeman caught accepting bribes, and such stories are only the tip of the iceberg. The trade and construction businesses in Russia are based on the exploitation of illegal migrants, who are forced to live like slaves in inhumane conditions (although they earn more in Russia than they would in their own countries) while their "owners" build partnerships with local authorities and law enforcement bodies. Putin is currently trying to push through the State Duma a bill on the so-called "rubber apartments," which would allow the government to exert strict control over individuals' place of residence and would affect all law-abiding citizens of the country. However, nobody wonders why thousands of illegal migrants are living in Moscow's residential districts in violation of the current legislation. Zeinalov's story shows that both the police and the migration services are ineffective.
Second, after having been released, Zeinalov drove a car without a driver's license for more than a year, a feat that in Moscow is close to impossible without an "arrangement" with both the police and the federal authority for road traffic safety. It is no coincidence that one of the first decisions of the Moscow police chief after the accident was to fire the head of the Western Biryulyovo police department, Gennady Kaverin, and the Moscow Southern District police chief, Alexander Podolny. As a result, the corruption situation regarding Moscow's roads has somewhat improved. According to drivers, it has become harder to "work out an issue" by giving a bribe. Policemen fear provocations and prefer to work honestly. Zeinalov's case, however, demonstrates that in certain conditions, "partnerships" are still possible between businessmen and heads of law enforcement agencies who live according to their own rules. Markets, vegetable warehouses, and construction sites are becoming "states within the state" where the sovereignty of the Russian Federation does not apply.
Third, Zeinalov was renting a room from Alexei Pronkin, the owner of a three-bedroom apartment. Rentals in Russia represent another "black hole," or an area in which regulation seems to be frustratingly ineffective. In general, apartments and rooms are frequently rented without lease agreements and, of course, without tax liabilities. Tax authorities and the police often know about these apartments; however, the law in this regard is so "raw" that trying to sort out the legal intricacies is not worth the effort. In addition, the authorities often see these arrangements as just another way to make money. As for apartment owners, they often prefer to bribe a policeman instead of declaring their income. Also, let us not forget the aforementioned "rubber apartments," in which migrants are registered by the hundreds. The Russian federal migration service is currently lobbying for the creation of special transfer sites where migrants could be detained before being sent back to their countries. However, only dozens of migrants are being deported on a regular basis, whereas thousands of them are living illegally in Russia.
Fourth, under the belief that the Pokrovskaya wholesale vegetable market is a nest of crime, local residents have been demanding for years that it be closed. According to the media, this market, which provides almost 40 percent of all vegetables sold in Moscow, belongs to the Noviye Cheryomushki Company, which is controlled by two businessmen from Dagestan, brothers Aliaskhab Gajiev (controlling 29.46 percent of shares) and Igor Isayev (controlling 64 percent of shares, according to the company's statistics for 2008). According to the media, Isayev changed his name from Ibrahim Gadzhiyev after getting in trouble with the police. The brothers are not only involved in the vegetable and goat businesses: in 2010, Isayev also owned two Moscow wineries: the Moscow Champagne Factory (with 65.5 percent of shares belonging to the factory itself) and RISP Ltd. (with 52 percent of shares belonging to the Moscow Champagne Factory and 15 percent belonging to Isayev). Since September 2013, Isayev has not been included on the list of the Moscow Champagne Factory's affiliated entities. Since then, the company has disclosed only four of its co-owners, including the brothers' partner Mahomed Talayev (controlling 2.8 percent of shares), with the brothers' gross share amounting to approximately 23 percent. Isayev also owns an agro-industrial firm called Kalausskaya that cultivates grapes in the Stavropol territory and one-third of the security agency Konkord.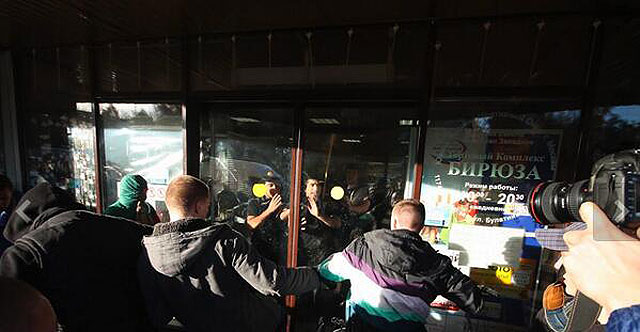 For many years, the authorities have not seemed to mind all this business. To local residents' demands to close the wholesale market, Moscow authorities replied that doing so would put the capital's food supply security at risk. Moscow mayor Sergei Sobyanin is now saying that the market will be permanently closed. The head of the Federal Service for Supervision of Consumer Rights Protection and Human Welfare, Gennady Onishchenko, notable enemy of Georgian and Moldovan wines and Lithuanian cheese, suddenly discovered that the market was violating health requirements. "Everything is being violated there, starting with refrigeration equipment. The rules on people's working conditions are being violated, as are requirements for safe storage of supplies," Onishchenko said. "These are not even just unsanitary conditions. The sanitary and technical condition of all environmental support systems, as well as the condition of storage spaces, justifies the permanent closure of the market."
According to a spokesperson of the Russian Investigative Committee, Vladimir Markin, a criminal case was initiated against the management of the Pokrovskaya wholesale vegetable market, with two individuals being detained and an arrest warrant issued against a third. According to findings of the investigation, Noviye Cheryomushki CEO Aliaskhab Gajiev, chairman of the board of directors Mahomed Churilov, and other people on sites that were operating under the contract with Noviye Cheryomushki supplied people who were illegally staying on Russian territory with work. A representative of the Russian Investigative Committee clarified that "at the present moment, it is a case of two Uzbek citizens and one citizen of Moldova, whom the suspects paid and supplied with lodging."
A legitimate question arises: What had Russian authorities been thinking before the attacks erupted in the Biryulyovo district? Had there been no inspections, or had authorities just been turning a blind eye to violations? There are too many questions, and the government is not prepared to answer them at the moment.
Fifth, law enforcement bodies, which were supposed to investigate the murder of Yegor Shcherbakov, usually do nothing until they get a signal from above. In recent years, Russian citizens have been taking over the duties of the police with ever-increasing frequency. Vigilante groups, ready to "sort out the mess" on their own, have appeared in different cities and towns during meetings organized by local residents in order to solve problems plaguing the community. The state has left its citizens no choice.
Russia's catastrophe consists in the fact that the police, the federal tax service, and even the FSB know what is happening but will do nothing without a proper signal.
Murders only get a public response when they become widely known. Otherwise, in order to increase the formal clearance rate, dozens of crimes are attributed to hopeless "accused" individuals who are already facing long prison terms. The police call such people scapegoats. Nobody really worries about proof, since Russian judges usually pass sentences that have been previously written for them by the Prosecutor's Office.
It is also worth mentioning how the Russian police managed to capture the alleged murderer of Yegor Shcherbakov. Minister of Internal Affairs Vladimir Kolokoltsev declared that he was proud of the operational efficiency of his agents and called the capture of Orkhan Zeinalov a proof of their competence, professionalism, and efficiency. However, according to Kommersant, the police lost Zeinalov's trail and were helped by Federal Security Service (FSB) operatives who threatened the Azerbaijani expatriate community with business problems if it tried to conceal the suspect. As a result, the FSB found out that Zeinalov was in Ryazan and was about to drive to Kolomna and provided the police with this information. As is well known, a SWAT team apprehended Zeinalov in the city forest on the outskirts of Kolomna. The suspect's identity was established only thanks to Pronkin, who was renting Zeinalov a room and, after growing suspicious of him, spoke with journalists.
As a result, we have quite a bunch of dysfunctional government authorities, including the Federal Migration Service, the Federal Authority for Road Traffic Safety, the Federal Service for Supervision of Consumer Rights Protection and Human Welfare, the Russian Investigative Committee, the Federal Tax Service, and many others, that have for years been turning a blind eye to what was happening in the Pokrovskaya wholesale vegetable market, have not been fulfilling their duty of controlling migrants, and have been giving thousands of migrants the opportunity to live in a "black zone." This zone is black not because it is invisible. The catastrophe of today's Russia consists in the fact that the police, the federal tax service, and even the FSB know what is happening but will do nothing without a proper signal. This signal might come from below (when people initiate ethnically motivated attacks) or from above (when superiors, afraid of losing their posts, begin pressing their subordinates to take action). The fact that even in such a situation, problems are being solved locally, temporarily, and manually is tragic. If the situation does not come to a head, people are forced to live in an environment where ethnic crime, government, and business are intermixed. Vladimir Putin is wrong if he thinks that he is the one who governs the country.