"Lest We Forget: Masters of Soviet Dissent," an exhibition of paintings and works on paper by Leonhard Lapin and Alexander Zhdanov, two of the Soviet Union's leading dissident artists, opened Monday, May 7th at Charles Krause Reporting Fine Art Gallery in Washington, to coincide with Vladimir Putin's third inauguration as President of the Russian Federation in Moscow.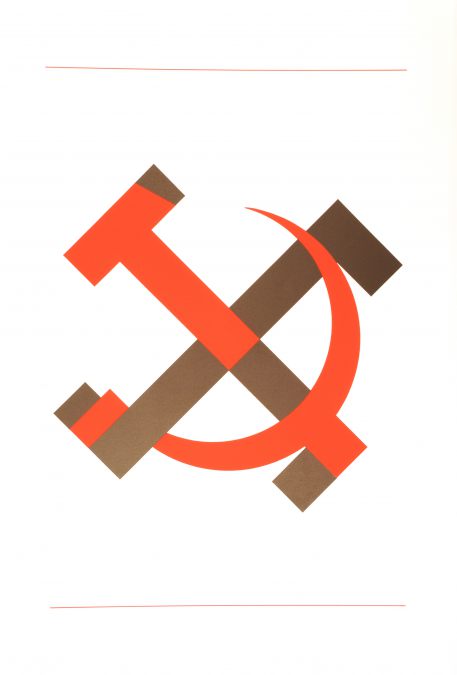 Leonhard Lapin. "Molotov-Ribbentrop / A", Silkscreen. 1989
Dedicated "to those in Russia who continue the fight for rule of law, free and fair elections and fundamental human rights," leading U.S. and Russian human rights advocates are expected to attend the exhibit's opening, which honors the important role artists have played, and continue to play, fighting for greater political freedom and respect for human rights in Russia and in other repressive societies governed by authoritarian regimes.
"We're showing great political art from the not so distant past to make a political statement about Russia's not-so-great current government," said Charles Krause, a former journalist and foreign correspondent whose gallery showing the art of social and political change opened last December.
"Russia today is not the country it was when Lapin and Zhdanov were creating what was then called nonconformist art to protest the sterility and rigidity of Soviet communism," Krause said. "But sadly, Russia is still a one party state with a leader who has demonstrated time and again that he will do whatever is necessary to keep himself and his underlings in power."
Lest We Forget: Masters of Soviet Dissent pairs the work of two artists who were both prominent "non-conformists" during the 70s and 80s yet whose styles, temperaments, artistic influences and life histories could not have been more different.
Lapin, whose Machine drawings dating from the early 70s established his reputation as a brilliant draughtsman and committed opponent of the both the regimentation of Soviet communism and of Russia's annexation of his native Estonia, is an architect by training and sophisticated cosmopolite, whose work is tightly controlled yet filled with risky political references and shocking (for its time) sexual innuendo.
Now 65, Lapin lives in Estonia's capital, Tallinn, where he is considered the "grand old man" of Estonian art. His work is well represented in the Kumu Museum in Tallinn, The Norton Dodge collection at the Zimmerli Art Museum, Rutgers University, and in other important public and private collections in Europe and the United States.
Six of Lapin's rare Machine drawings, from the artist's personal archive, will be on display and for sale during the Washington exhibit along with Sublime and Low III, Molotov-Ribbentrop A and 12 other of his limited edition silkscreens from 1989-91.
Throughout the 70s and 80s, while Lapin lived and worked in Estonia, outside the harshest glare of Soviet repression, Zhdanov lived and worked in Moscow where, as a Russian national, his work was greatly influenced by a life story marked by continued hardship, extraordinary determination, and perhaps madness. As a result, he lived in near isolation creating art in nearly impossible circumstances.
One of the group of "non-conformist" artists who openly challenged the authority of the Soviet regime by staging hunger strikes and issuing "samizdat," underground press and political manifestos, Zhdanov was expelled from the Grekov Art School four times and was never granted entry into the Union of Soviet Artists, which, at the time, was the only means of gaining access to a studio, materials, and the 'right' to work and exhibit as a recognized artist.
In September 1974, Zhdanov participated in the now-legendary "Bulldozer" exhibition, an outdoor showcase of non-conformist work in Moscow which was forcefully broken up by the Soviet authorities, who sent bulldozers and water cannons to destroy art that refused to conform to the official Socialist realism style and in that way challenged to power, ideology and ultimately the authority of the Soviet state.
In his Émigrés series, as it came to be known, Zhdanov uses mysterious figures, Pans, (Greek mythological gods of the wild, shepherds and flocks, nature and hunting), almost all drawn in silhouette of the sun or the moon, and almost always in the motion – either running from something, someone or towards the unknown, perhaps to freedom – to express his restiveness and opposition to Soviet communism. His love of experimental technique, haunting landscapes, and a healthy disdain for the decorative Socialist Realism style he was formally taught, all fueled a deep-rooted tension between form and content, independence and control.  In the words of the influential Russian art critic, Sergey Kuskov, his was "a lonely path in modern art."
The parallel of these images and their narratives to that of his own personal life is uncanny and equally dramatic. Following his daughter's defection in 1982 from the USSR, (she was a member of their 1980 Olympic team), the KGB began to follow the political and social activities of the artist and his wife.  Repeated requests for an exit visa from the Soviet Union on grounds of artistic freedom were routinely denied. Finally, following a well-publicized protest in front of the American embassy in Moscow, Zhdanov and his wife were officially deported from the Soviet Union in November 1987.
Eventually resettling in the United States, Zhdanov continued to work in Washington, DC until his death in 2006 at the age of 58. Championed by the American collector and patron, Norton Dodge, Zhdanov's work forms a part of the Norton Dodge collection at the Zimmerli Art Museum at Rutgers University and is also found in important museum and private collections in Europe and the United States.
Well over 100 guests, journalists and art critics attended the "Counter Inaugural" reception. Carl Gershman, president of the National Endowment for Democracy, created and funded by the U.S. Congress to promote democracy and free expression around the world; Alexey Semyonov, president of the Andrei Sakharov Foundation; Azar Nafisi, Iranian exile and author of the international bestseller "Reading Lolita in Tehran," and Marina Kaljurand, Estonia's Ambassador to the United States, were among those who addressed the crowd.