The results of the past two months have been devastating for Russian civil society: basic constitutional rights have been severely restricted; military censorship and the state's monopoly on the truth have been officially introduced; and freedom of speech and assembly has been completely destroyed. Russia's invasion of Ukraine gave a powerful boost to the Putin regime's repressive machine. Anti-war protesters are being detained and beaten en masse in police stations, and the courts continue to hand down harsh sentences on trumped-up charges. IMR compiled a list of the most egregious cases of suppression of human rights and freedoms recorded in Russia in February and March 2022.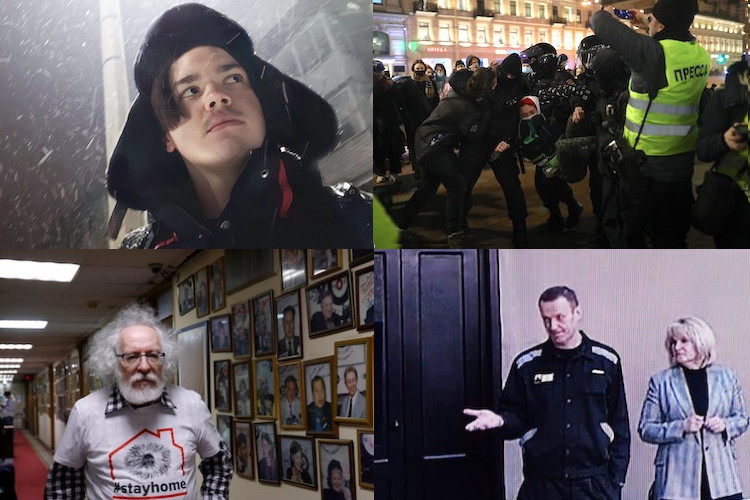 In the Krasnoyarsk Territory, a court sentenced 16-year-old Nikita Uvarov to 5 years in prison and a fine of 30,000 rubles ($313) in the so-called case of the Kansk teenagers. He was found guilty under three articles of the Criminal Code: training for the purpose of carrying out terrorist activities (Article 205.3), illegal manufacture of explosives (Part 2 of Article 223.1), and their storage (Part 2 of Article 222.1). Uvarov and two other teenagers (sentenced to 3 and 4 years of suspended imprisonment) were detained in the summer of 2020 for posting leaflets in support of Azat Miftakhov, a Moscow State University graduate student convicted of alleged hooliganism. Having gained access to their phones, the investigators found messages discussing the idea of ​​creating a Minecraft version of the FSB building and blowing it up. The investigation claimed that the teenagers had "united into a group for the subsequent joint implementation of terrorist activities" in the city of Kansk.

In Simferopol, Ukrainian journalist Vladislav Yesipenko was sentenced to 6 years in prison and a fine of 110,000 rubles ($1,145) on charges of purchasing (Part 1 of Article 222.2 of the Criminal Code) and manufacturing (Part 1 of Article 223.1) explosives. Yesipenko was detained in March last year during a business trip to the Crimea. During the search of his car, FSB officers found a grenade-type device. The journalist himself claims that Russian security forces planted the explosive on him, and he confessed under torture. Memorial Human Rights Center recognized Vladislav Yesipenko as a political prisoner, noting that his persecution "fits into the anti-Ukrainian campaign unleashed by the Russian authorities in 2014."

A court in Chechnya convicted brothers Salekh Magamadov and Ismail Isayev, administrators of the Chechen opposition Telegram channel Osal Nakh 95. They were sentenced to 8 and 6 years in a penal colony, respectively, on charges of "assisting participation in an illegal armed formation" (Part 5 of Article 33, Part 2 of Article 208 of the Criminal Code). The brothers (both members of the LGBT community) were reportedly abducted by Chechen security forces and forcibly taken from Nizhny Novgorod to Chechnya, where they were tortured to extract confessions. Memorial considers Magamadov and Isayev to be political prisoners, and the charges brought against them to be related to gender discrimination and falsified for political reasons.

Since the first days of the military invasion of Ukraine, Russian security forces have been brutally suppressing protests across the country. According to OVD-Info, the total number of detainees at anti-war protests exceeds 15,000. Among them are even young children.

Protesters report violence by law enforcement officers: people have been severely beaten (including with electric shockers), called "enemies of the people," threatened with criminal cases under extremism legislation, with deprivation of parental rights, and even with rape. One such episode that received wide publicity involved the beating of a participant in an anti-war rally in Moscow's Brateyevo police station.

Military censorship has de facto been introduced in Russia. In the first days of the invasion, Roskomnadzor ordered the media to use information only from official sources when reporting on military actions in Ukraine, and subsequently forbade calling these actions a "war" or an "attack," insisting on the wording "special military operation."

Publications that violate the new requirements are subject to blocking. According to Agora International Human Rights Group and the Net Freedoms project, a total of more than 800 media outlets have already been blocked, including the websites of the human rights organizations Golos and Amnesty International, and of the publications Current Time, Meduza, Mediazona, The New Times, Taiga.Info, DOXA, Republic, Agentstvo, Bumaga, Caucasian Knot, BBC Russian Service, Deutsche Welle, Radio Liberty, and others.

TV channel Dozhd, Znak.com, and the Tomsk agency TV2 announced the suspension of operations due to pressure on the media. Novaya Gazeta also suspended publishing "until the end of the special operation." The Board of Directors of Ekho Moskvy (a popular radio station controlled by Gazprom) decided to close the radio station, including its YouTube channel; Ekho's frequencies were transferred to the pro-Kremlin radio station Sputnik.

The investigative media project Important Stories became the second Russian media outlet (after Proekt) to be recognized by the Ministry of Justice as an "undesirable organization."

In addition, Russian authorities blocked access to Facebook, Instagram, and Twitter. A court recognized Meta (Facebook's parent company) as an extremist organization and banned its operation in Russia.

Newly adopted laws introduced administrative and criminal liability of up to 15 years in prison for spreading "fake news" about the actions of the Russian army and the activities of Russian government agencies abroad.

To date, over 10 cases have been initiated under the new article (207.3) of the Criminal Code, some of them against journalists. In total, in the month since the beginning of the war, 60 criminal cases have been opened in the Russian regions one way or another connected with protests and public criticism of the actions of the Russian authorities.

Russia announced its withdrawal from the Council of Europe, thereby denouncing the Convention for the Protection of Human Rights and Fundamental Freedoms. It will be difficult now for Russians to apply to the European Court of Human Rights (Russia is the leading country by number of complaints filed against it to the ECHR). This will have a particularly strong impact on residents of the North Caucasus, for whom the ECHR remained the last resort where they could count on justice. One of the most radical possible consequences of Russia's withdrawal from the Council of Europe could be the lifting of the moratorium on the death penalty in the country.

Russia's Supreme Court approved the decision to liquidate International Memorial (IMR covered this in detail here), and refused to postpone it as requested by the ECHR. The ECHR had demanded that the process be suspended pending a ruling on a complaint against the law on "foreign agents" filed in 2013 by Russian NGOs.

A court in Astrakhan upheld a series of harsh sentences for local Jehovah's Witnesses. Earlier, Rustam Diarov, Sergei Klikunov, and Yevgeny Ivanov were sentenced to 8 years in a penal colony, and Olga Ivanova to 3.5 years. They were found guilty of involvement in an extremist organization (Parts 1 and 2 of Article 282.2 of the Criminal Code) and financing extremist activities (Part 1 of Article 282.3).

The Prosecutor General's Office approved the indictment in the case of journalist Ivan Safronov, accused of treason (Article 275 of the Criminal Code). The court extended his arrest until September 9 and rejected all the motions of the defense, in particular, permission to allow visits and calls. The first hearing in the case is scheduled for April 4; it will be held behind closed doors. The persecution of Safronov is associated with his professional activities—he was engaged in covering the work of the military-industrial complex. Safronov has been in jail since July 2020, and faces up to 20 years in prison.

The Supreme Court of Karelia upheld the verdict for the head of the regional branch of Memorial, 65-year-old historian Yuri Dmitriev. At the end of last year, his sentence was extended to 15 years in a strict regime colony.

In Rostov-on-Don, Crimean Tatar activists were sentenced to long terms in prison for being members of the Islamic religious and political party Hizb ut-Tahrir, banned in Russia. Riza Izetov and Remzi Bekirov each received 19 years in a strict regime colony; Shaban Umerov 18 years; Raim Aivazov and Timur Yalkabov 17 years each; Farhod Bazarov, Eskender Suleymanov, and Asan Yanikov 15 years each; Akim Bekirov, Seitveli Seitabdiev, and Rustem Seitkhalilov 14 years each; Lenur Seydametov 13 years; Zekirya Muratov5 years; and Vadim Bektemirov 11 years. All of them were charged with organizing or participating in terrorist activities (Parts 1 and 2 of Article 205.5 of the Criminal Code), as well as preparing a violent seizure of power (Article 278, with the application of Part 1 of Article 30). As IMR previously wrote, in recent years, the accusation of membership in Hizb ut-Tahrir has become an instrument of mass repression against the Crimean Tatars.

Convicted oppositionist Alexei Navalny was sentenced in a new criminal case to 9 years in a strict regime colony on charges of "fraud on an especially large scale" (Part 4 of Article 159 of the Criminal Code). He was found guilty of embezzlement for personal purposes of funds donated to the Anti-Corruption Foundation. In addition, Navalny was fined 1.2 million rubles ($12,500) in a separate case of contempt of court (Article 297). Navalny is currently serving a sentence in the Yves Rocher case: last February, the court replaced his suspended sentence—3.5 years in prison—with a real one.