The Russian-Ukrainian gas conflict that started in April has recently entered a critical phase. On June 16, Russian gas monopoly Gazprom halted transportation of gas to Ukraine, demanding that Ukraine pay its debt of almost $2 billion. And last Friday, Gazprom's CEO Alexei Miller threatened to take measures against European companies that participate in reverse gas supplies to Ukraine. IMR analysts Tatiana Stanovaya and Olga Khvostunova analyze the specifics of the latest gas war.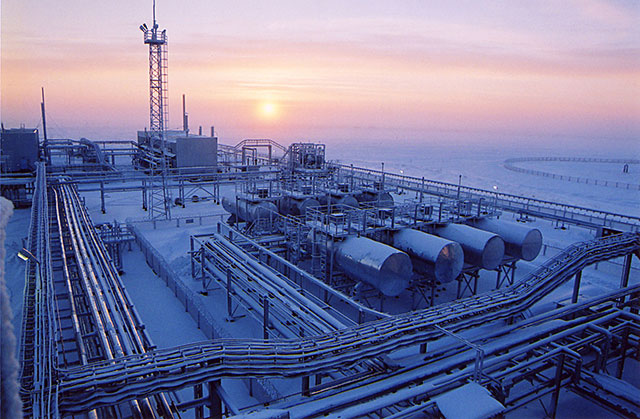 The roots of the current—and third, if we're counting—gas war between Russia and Ukraine stretch back to January 2009 when Gazprom and Naftogaz Ukraine signed a number of gas contracts for purchasing and transporting Russian gas through Ukraine's territory. The negotiation was overseen by the prime ministers at the time, Russia's Vladimir Putin and Ukraine's Yulia Timoshenko. The conditions of those contracts promised many benefits for Gazprom. For example, Ukraine was obliged to pay $450 per thousand cubic meters of gas (though it was offered a 20 percent discount). It was also obliged to prepay 80 percent of the declared transit volumes (even if the gas would not eventually be purchased by European customers); and if a prepayment were delayed for longer than a month, Ukraine would have to pay full price. Ukraine also had to abandon gas deals with Turkmenistan and switch entirely to Gazprom's product. Finally, the Ukrainian energy company Rosukrenergo (owned by businessman Dmitry Firtash), a former intermediary in gas deals between Russia and Ukraine, was excluded from the relationship. The contracts were signed under such conditions, effective until the year 2019.
The price formula was set in such a way that Ukraine had to pay more for gas than Germany, Poland, Slovakia, or the Czech Republic. In a May 2011 televised interview, Nickolai Azarov—then-prime minister of Ukraine who took over the office after Timoshenko and put much effort into attempts to revise the gas contracts—said that the "Timoshenko formula" was absurd, as countries located much farther from Russia than Ukraine had to pay less for gas. It is worth noting that it was the signing of the 2009 gas contracts that put Ukraine in such a financial disadvantage, was the reason for Yulia Timoshenko's arrest and imprisonment on charges of "exceeding the authority of the prime minister of Ukraine," and which caused losses to the state (represented by Naftogaz) in the amount of 1.5 billion hryvnias ($190 million).
Gas discounts became Russia's major form of leverage over Ukraine. In 2010, Russia and Ukraine signed the so-called Kharkiv Pact, which extended Russia's Black Sea Fleet presence in Crimea for twenty-five years in exchange for a $100 discount on the gas price. After annexing Crimea, however, Russia denounced the signed agreements, so the discount has naturally lost its value to Russia.
The smoldering gas conflict began to flare in April 2014, when Moscow suddenly increased the gas price for Ukraine by 80 percent—from $268.50 to $485 per thousand cubic meters—calling off previously set discounts. Ukraine called the new price unacceptable and refused to pay for the gas until the old rates were reinstated. After two months, the long-standing opposition came to a head on June 16, when Gazprom ceased gas shipments to Ukraine.
To understand the gas war today, one must appreciate its three key aspects. First, there's the legal aspect. Moscow seeks to preserve its leverage over Ukraine by manipulating discounts while keeping the baseline gas price at a high level. The new Ukrainian government is ready to fight for revision of the gas contracts, including changing the price formula and abandoning the entire discount system. Ukraine claims that the price of $268.50 per thousand cubic meters is fair and intends to appeal to the International Court of Arbitration for compensation for payments made over this amount when the higher price was in effect. Despite the fact that Gazprom tried to show flexibility by postponing Ukraine's prepayment deadlines for gas transit several times and by offering to return the $100 discount, Kiev firmly holds to its chosen stance.
In a sense, the current gas war between Russia and Ukraine highlights fundamental issues that have developed between the two countries over the past decade, and this means that recovery from this crisis won't be easy.
On June 16, Gazprom filed a claim to the Svea Court of Appeal in Stockholm, demanding that Naftogaz Ukraine repay its debt of $2 billion for November–December 2013 gas shipments, as well as $500 million for indebted prepayment charges. On the same day, Naftogaz filed a counter-claim to the Svea Court of Appeal demanding revision of the price formula and establishment of a fair market price for the gas; it also demanded a retroactive payment of $6 billion as compensation for the losses it suffered under the unfair conditions of the gas contracts. Formally, Gazprom's position seems to be solid: the gas monopoly demands that Naftogaz adhere to the 2009 gas contract and its conditions and seeks repayment of the debts. However, Kiev has its own argument.
First of all, according to the gas contract in question, each party has a right to initiate negotiations on changing the parameters if the energy market situation has significantly changed. Secondly, if Ukraine can prove that the contract was signed under pressure or as a result of deception or fraud, the contract can be revoked. On top of that, Kiev also intends to prove that Moscow's denouncement of the Kharkiv Pact is illegal. Although, this might be harder to prove: as Russia's deputy minister of foreign affairs Grigory Krasin explains, Russia bases its rejection of the pact on the Vienna Convention on the Law of Treaties articles 61 ("Supervening Impossibility of Performance") and 62 ("Fundamental Change of Circumstances"). Finally, Kiev intends to demand compensation from Russia for appropriation of Chernomorneftegaz (a Crimea-based gas company) as a result of Crimea's annexation.
The second aspect of the gas war is the market situation. Today, Ukraine expects to compensate for the potential gas deficit by purchasing gas from Europe (mostly Hungary and Slovakia) in the form of reverse shipments. As Ukraine's energy minister Yuri Prodan announced on June 25, a memorandum on "small reverse" gas supplies (22 million cubic meters per day) has already been signed with Slovakia, while a "big reverse" contract, which could provide up to 30 billion cubic meters per year, is coming soon. The price for the reversed gas might be $150 lower than the price Ukraine would have to pay for transiting gas from Russia according to the existing contracts. The first reverse shipment is expected to occur on September 1, 2014.
A solution isn't that simple, though: as recently as March 2014, prime minister of Slovakia Robert Fico said that his country's priority is security of Russian gas shipments. "We've got no spare funds to support Kiev," he added. Today, negotiations between Ukraine and the EU are being held at a hastened pace, but even if their outcome is favorable for Ukraine, the reversed gas cannot fully compensate for the gas deficit that will emerge if Russia completely cuts its gas supplies to Ukraine. Besides, reverse gas shipments might be problematic from both technical and financial points of view: in order to ship even the minimum planned volume of reverse gas, new gas hubs should be built and the existing ones enlarged. Construction of new branches of the gas pipelines might also be needed. All of this requires enormous investment.
Moreover, on June 27, Gazprom's CEO Alexei Miller threatened that his company is prepared to impose restrictions on gas shipments to those European companies that participate in the "big reverse" through Slovakia. Such a move on the part of any European country will incur "all the ensuing consequences," he said.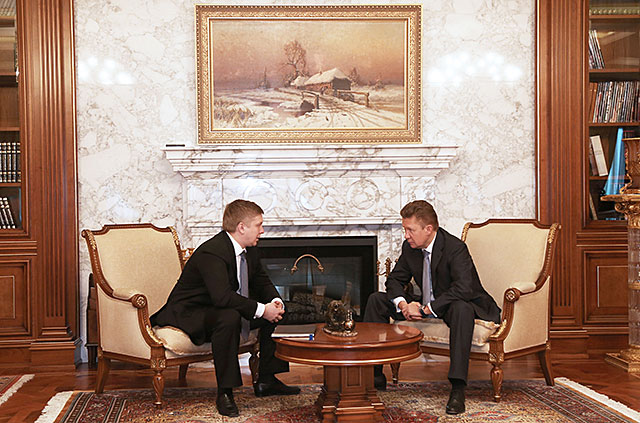 Finally, the third aspect of the conflict is politics, and here the situation looks even more complicated. After the presidential elections in Ukraine and the rise of a new legitimate leader, the confrontation between Russia and Ukraine (which have been experiencing the most severe crisis in their history) decreased for a while; but they still failed to arrive at a dialogue. One of the reasons for this could be the differing expectations of both parties. The Kremlin expected the newly elected president Pyotr Poroshenko to take a softer stance on the situation in East Ukraine and be more flexible during negotiations with Russia. And Poroshenko expected Moscow to take a few steps toward rapprochement by refraining from supporting separatists and making some concessions in gas negotiations. But instead of making concessions, the Kremlin moved toward further escalation of the conflict. Even the efforts of the European Commission (EC), which tried to act as an intermediary in negotiations, turned out to be fruitless. Russia and Ukraine have once again exchanged harsh words and voiced mutual accusations of "gas blackmail," ignoring the EC's proposed compromise of a phased repayment of Ukraine's debt.
According to Naftogaz CEO Andrey Kobolev, Ukraine won't need Russian gas until at least September. And considering that Ukraine has already pumped 14 billion cubic meters through its territory over the last two months for free, the country wouldn't need to buy Russian gas until December. It's hard to predict what course the situation will take in winter, but it is obvious that both parties are interested in resolving the issue over the fall. While Ukraine's motivation is clear, the major reason for Gazprom to end this war is to preserve its reputation as a reliable gas supplier to European partners. (It's worth recalling that cutting gas supplies during the previous gas war with Ukraine in the winter of 2009 cost the company 3 billion euros in penalty fees and allegedly enormous damage to its reputation.)
In a sense, the current gas war between Russia and Ukraine highlights fundamental issues that have developed between the two countries over the past decade, and this means that recovery from this crisis won't be easy. The next flare-up of the conflict can be expected this fall.