Vladimir Putin's recent visit to Hungary and his new energy deal with Hungarian prime minister Viktor Orban caused yet another debate in Europe over Russia's attempts to undermine the Western alliance. Donald Jensen, resident fellow of the Center for Transatlantic Relations, reviews these controversial developments.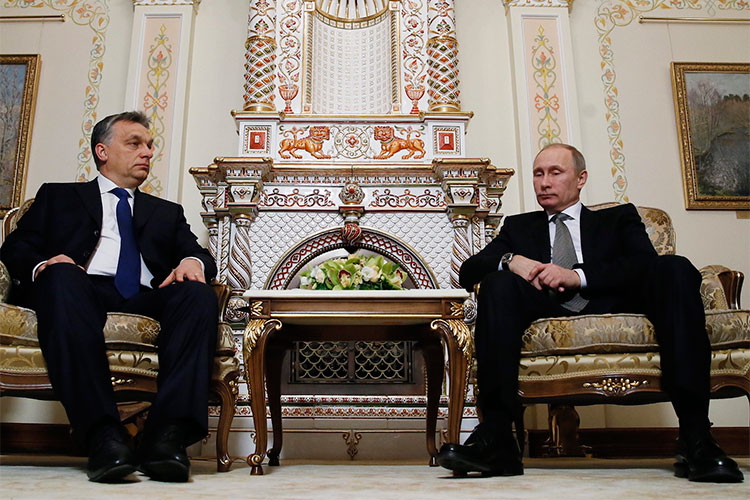 On February 17, Russian president Vladimir Putin paid a visit to Budapest—a trip designed to strengthen the Kremlin's relations with Hungary while the rest of Europe gives Russia the cold shoulder over its intervention in Ukraine. During several hours of talks, Putin and Hungarian prime minister Viktor Orban agreed to extend a gas contract due to expire this year. A stumbling block had been a disagreement over whether Hungary would have to pay for gas it contracted to buy but did not use. They also reached a deal to build a nuclear energy plant. Both leaders said they would support "Turkish Stream," a successor to the Russia-sponsored South Stream project that would have pumped Russian gas under the Black Sea to Europe, but which Moscow abandoned last fall in the face of objections from Brussels. The new project is to go through Turkey and include spurs that would take gas through Greece and the Balkans to Hungary.
The visit had a controversial, pro-Kremlin aura about it. Putin's itinerary included a visit to a cemetery for Soviet soldiers, including those who had died while crushing Hungary's tragic 1956 uprising against Soviet domination. (He bypassed a memorial to the dead of 1956 and instead laid a wreath at a nearby memorial to World War II.) During the visit, Prime Minister Orban, who has expressed contempt for liberal democracy since coming to power, criticized European Union members who want to isolate Russia as "not rational," but rejected the accusation that his ties with Moscow undermine Europe's consensus on Ukraine. Meanwhile, more than 2,000 people took to the streets of Budapest on the eve of Putin's visit to protest what they see as Hungary's unwelcome dependence on Moscow for energy supplies and Orban's authoritarian tendencies. Various civil and opposition groups also expressed their objections. Jobbik, Hungary's radical right-wing party, was the only party other than Orban's Fidesz to welcome the Russian leader.
Press coverage of the meeting, both in Hungary and abroad, was overwhelming negative. Some domestic media outlets stated that the only purpose of Putin's visit was for him to be seen being received in a country that is a member of both the EU and NATO. But most experts agreed that the Orban government was downplaying the visit, at least compared to the triumphal reception Putin received in Belgrade last October. Hungarian officials may also have leaked stories intended to demonstrate that Orban is not in Putin's pocket. Austrian and Hungarian media, citing sources close to Orban, claimed Putin visited against the Hungarian leader's wishes and threatened to cut off sales of natural gas if he were not received in Budapest. The New York Times, relying on a Hungarian analyst, also hinted at tensions, but the Washington Post emphasized the warmth between the two leaders.
Hungary is one of several countries in the former Soviet Union that are now torn between Europe and Putin's Russia. Money, culture, and energy resources still strongly pull some former Soviet states toward the east. Vladimir Putin's sometimes vague anti-globalist nationalism, moreover, is popular in the region.
Orban's foreign policy is a mix of ideology and opportunism. He has angered Brussels by attempting to justify his increasing authoritarianism in a way that suggests he wishes to turn Hungary into something quite different from what the West anticipated when the Iron Curtain collapsed. In a speech last summer, Orban declared liberal democracy to be in decline and praised authoritarian "illiberal democracies" in Turkey, China, Singapore, and Russia. At the same time, he says Hungary remains dedicated to NATO and the European Union. Since the Ukraine crisis began, Orban has toned down slightly his pro-Russian rhetoric, but he has also called sanctions against Russia "unproductive," and has expressed concerns about the fate of 200,000 ethnic Hungarians in Ukraine in language similar to that used by Putin to justify his support for ethnic separatists.
Hungary is one of several countries in the former Soviet Union that are now torn between Europe and Putin's Russia. Money, culture, and energy resources still strongly pull some former Soviet states toward the east.
Putin is unwelcome elsewhere in the EU and has not been on a bilateral visit to an EU member state since last June. The fact that he was in Budapest at all underscores the importance to the Kremlin of courting Hungary as a key to achieving its goal of dividing the Western alliance. Russia has reached out to France's far right, made overtures to Greece's far left, and offered energy benefits to Austria and Bulgaria, where, as in Budapest, leaders have voiced skepticism over EU sanctions against Moscow. "The Hungarians call it strictly business," the Washington Post wrote recently. "But in Moscow's power play for Europe, it is hard to separate business from politics." Two Russian companies involved in the Hungarian nuclear deal have close ties to Putin's confidantes who were sanctioned in 2014 for their connections to the crisis in Ukraine.
Orban's flirtation with Moscow comes at a political cost to Hungary's status in the European Union. Many Western diplomats are alarmed by what they see as Hungary's drift into Russia's orbit. Earlier in February, German chancellor Angela Merkel visited Budapest, where she clashed with Orban over his interpretation of democracy. Orban has made signs of loyalty to Europe: in November, he described Germany as a "compass" for Hungary in foreign policy. Nevertheless, he has insisted that Hungary will choose its own path in relations with Moscow and defend its national interests. Should Orban decide to oppose the prolongation of sanctions against Russia when they come up for renewal in the coming months, the EU's approach to Ukraine could be undermined.
With a gas deal with Moscow in his pocket, Orban plunged ahead with characteristic bravado. On February 17 he announced that he would not support an EU plan to integrate the bloc's energy policy, a move that seeks to amend the EU charter to create an energy union and reduce reliance on Russia. Under the plan, Hungary would have to refrain from re-selling Russian gas to Ukraine. Orban also hopes the deal with Moscow will allow him to cut voters' utility bills and revive his party's support, which has declined as voters have become disillusioned with his pro-Russia policies, corruption, new taxes, and crackdown on nongovernment organizations.
But Orban received two prompt setbacks in the past week, which suggest Hungary may find it difficult to continue its maverick ways in the coming months. First, Orban's ruling coalition lost its two-thirds majority in parliament in by-elections on February 22 (Oligarch Lajos Simicska, an Orban ally, had earlier deserted the prime minister). Second, Polish prime minister Ewa Kopacz told Orban in a "frank" and "difficult" conversation in Warsaw that the unity of the EU and the Visegrad countries was "of paramount importance" to the situation in Ukraine. Kopacz compared the present war in that country's east to the situation in Budapest in 1956. "In our common history," Kopacz warned Orban, Poland and Hungary always lost when in international politics "rights were replaced with power."