In the past two weeks, Russians came out to the streets again in large numbers to support opposition leader Alexei Navalny and protest against the Putin regime. While some facets of the recent rallies and the regime's reaction to them have remained the same over the years, new characteristics have also emerged, including ramped-up crackdown and angrier protesters.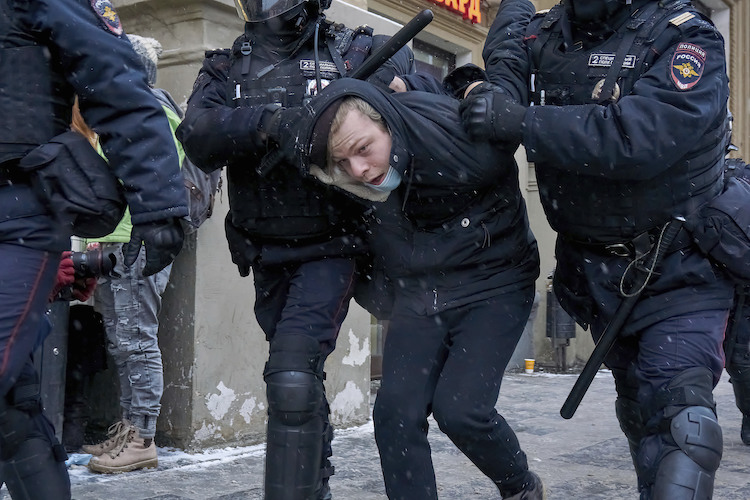 On January 31, for the second weekend in a row, people protested across Russia in support of Alexei Navalny and against Vladimir Putin. The protests followed Navalny's arrest at Sheremetyevo airport on January 17 and the subsequent release of a video made by Navalny's Anti-Corruption Foundation (FBK)—Putin's Palace (now with over 108 millionviews)—documenting how the Russian president has accumulated wealth through a network of friends and acquaintances over the course of the last thirty years. Some aspects of the protests and the authorities' response to them follow a well-established playbook, while others are novel.
Before and during the protests, authorities used parts of the "protest repression toolkit." First, they attempted to cripple protest mobilization by arresting protest leaders. With Navalny already in detention, various other members of his team, including the press secretary Kira Yarmysh, FBK investigator Gregory Alburov, and FBK lawyer Lyubov Sobol, were detained on January 27 along with Navalny's brother Oleg. The next day, a criminal case was announced against Leonid Volkov, the coordinator of Navalny's regional network who lives outside Russia. Some prominent supporters of Navalny located outside of Moscow, like Sergei Boiko, who recently won a seat on Novosibirsk's city council, were also detained by the police.
Next, schools and universities discouraged students from attending the protests by suggesting that it might interfere with the completion of their degrees or finding employment. State-controlled television was used to broadcast the message that protests are dangerous, destabilizing and sponsored by foreign powers that wish to harm Russia. The state media censor, Roskomnadzor, also oversaw that deletion of calls to protest from social media platforms including TikTok, YouTube, VKontakte and Instagram.
Lastly, during the actual rallies, protesters were detained in large numbers and roughly by police, who used batons and even tasers against protest participants. All of these tactics repeat established patters of protest suppression in Russia.
Unlike the ongoing demonstrations in Belarus, these protests are less easily connected to collective and immediate grievances like election fraud that have the potential to assemble large social coalitions.
One novel aspect of the regime response was the unprecedented degree of securitization of space in Moscow and St. Petersburg ahead of the protests. Russian authorities have a long history of occupying space that protesters intend to use with emergency repair work or hastily organized festivals. This weekend, however, authorities essentially shut down downtown Moscow to almost all car and pedestrian traffic, even going so far as to close seven central metro stations, an action not seen since the middle of World War II. In St. Petersburg lines of police blocked off downtown, a move that was aptly satirized by a graphic designer using footage from Star Wars. The heavy handed and preemptive occupation of space intended for use by protesters suggests that these mobilizations are seen as genuinely threatening by a regime that had previously been mostly unshaken by even large protests.
In terms of geographic reach and protest attendance, observers have been split on their uniqueness. Determining the number of protest participants is difficult for unsanctioned rallies where organizations like White Counter cannot systematically count the participants. Reuters estimated that a crowd of about 40,000 had assembled in Moscow on January 23. Some media outlets claimed that more than 100,000 people attended protests in over 100 cities that day. These numbers put the protests on par with election-related protests during the summer of 2019 and the pension reform protests of 2018. What we know with certainty is that more people were detained across the country during the two protest days in January than at any other time in recent history. OVD-Info provided data showing that over 4,000 people were detained on January 23 and over 5,500 were detained last Sunday. This again suggests a harsher regime response against these unsanctioned protests than previous ones.
Just as the regime seems wearier of the protests, the mood of the protesters also seems to have darkened. In contrast to previous protests where participants were exceptionally peaceful, this time around some protesters fought riot police while groups of others threw snowballs and even vandalized a car belonging to the security services. Clever signs appeared in these demonstrations just as they had during previous protests, but the overwhelming security response forced protesters to continually scatter and regroup, making it difficult to convey their message using props—like the toilet brush made famous by Navalny's video—and slogans of "All for one and one for all."
Navalny's supporters protested again, this time on February 2 when the opposition leader was sentenced to two years and eight months in penal colony for allegedly violating the terms of his parole in the 2014 Yves Rocher case. Over 1300 people were detained across Russia this time, often with brutal and overwhelming force. 
It is difficult to be optimistic about the durability of these protests. Unlike the ongoing demonstrations in Belarus, these protests are less easily connected to collective and immediate grievances like election fraud that have the potential to assemble large social coalitions. Navalny is experiencing the very worst aspects of Russia's political and legal system but his base of support remains relatively narrow and the regime's response is growing more repressive. The recent protests may represent an important turning point in state-society relations, one that signals a bleaker political outlook for Russia.
* Yana Gorokhovskaia is a political scientist researching civil society and local politics in Russia. From 2016 to 2019, she was a postdoctoral scholar in Russian Politics at the Harriman Institute for Russian, Eurasian, and East European Studies.