After festival screenings in over 30 countries, 'My Perestroika' has finally arrived on DVD. The film premiered at Sundance, was broadcast nationwide on PBS on the POV series, and received the prestigious 2012 Peabody Award. To purchase it, please visit 'My Perestroika' website, where the DVD is sold for purposes of both institutional/educational and home use. The DVD includes over an hour of deleted scenes and interviews. All DVDs are Region 0, and can be shipped overseas. "This is a small independent film, supported by grants and donations from individuals. Purchasing your DVD via myperestroika.com ensures that maximum assistance is provided to alleviate the production and distribution costs we've accrued", Hessman explains.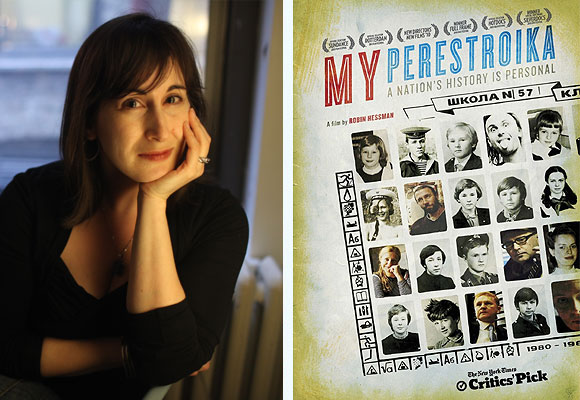 In Russia My Perestroika has not yet been screened publicly, but Hessman plans to do so in December of 2012. "So far we've screened it in Ukraine, Latvia, Lithuania, Estonia, Georgia and Moldova, where the film won the prize for Best Directing", she says. "Another happy result of the film is how much people from other countries in Eastern Europe find that the film resonates for them. After all, it is overwhelmingly a story about people living through those times of extreme change. People in Poland, the Czech Republic, Bosnia and Hungary have all told me they related to the film."
"Wherever I travel with My Perestroika I am so touched and gratified by the reaction of people who grew up in the Soviet Union who come up to me to talk about the film. Those who immigrated have said they feel as though they are re-living their own childhoods, and that they also obtain a perspective of the life they might have lived had they not left. Many of them bring their children or grandchildren to see the film, to better understand those memories and stories they have heard, this time in a visual way. Hearing about the value of My Perestroika for younger generations who never experienced the USSR or who don't remember it means a great deal to me," the director continues.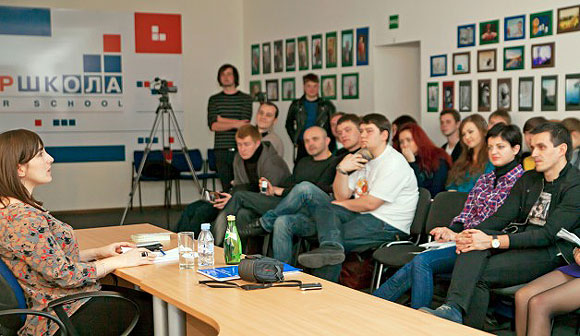 Film director Robin Hessman speaking to students in Ukraine earlier this year
This documentary was created over the course of almost 6 years. Throughout the production process Hessman wondered what the audiences' reaction to the film would be. "One of the most amazing reactions from audience members has been their desire to get involved, to help get the movie shown in more places. Russians and Russian-Americans have volunteered to arrange screenings in Germany, in England, and across the United States. This has been incredibly helpful, as we've been trying to bring My Perestroika to as many places as we can," Hessman shared with the IMR.
"I wanted to reveal the complexities of the transition from USSR to Post–Soviet Russia as experienced by several childhood classmates who were part of the last generation of truly Soviet children. Initially, I pictured the audience as mostly people from the West—individuals from a distanced culture who might not know much about the part of the world I chose to focus on. People who were not aware of the events that transpired in the late 1980s and early 1990s, events that served to permanently alter the course of global politics. However, during production, I realized I wanted to make a film that could also be watched by my friends who had grown up in the USSR—a film that would reflect their own experiences in a way they could relate to. Striking that balance was difficult but with the help of two very talented editors, it seems we have achieved that goal", Hessman concluded.
For information on how to help, please visit: http://myperestroika.com/get-involved/